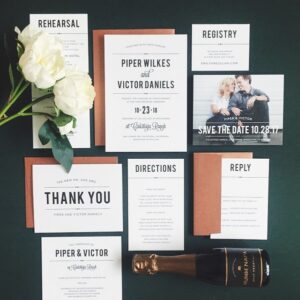 As soon as you get engaged, one of the first questions your friends and family ask you is, what's your wedding theme? Don't panic. While choosing a wedding invitation theme might seem daunting at first, you don't need to spend too much time thinking about it before you send out the invitations (if at all). Here are some factors to remember when choosing an invitation theme for your wedding.
How To Pick a Wedding Invitation Theme for Your Wedding
You can get many types of invitations, each with a specific theme. Think about what style you would like for your wedding. Popular wedding invitation themes include a destination or rustic-themed wedding invitation. There are even Indian wedding invitation templates and art deco wedding invitations.
Classic Themes
When choosing a wedding invitation theme, there are many classic themes. Whether you want something simple, elegant, or more elaborate and detailed, there is sure to be a classic theme that fits your style. Here are some of the most popular classic wedding invitation themes:
Floral: A floral theme is always a popular choice for weddings. You can choose from various flowers and colors to create your unique floral design.
Vintage: A vintage theme can give your wedding a timeless and romantic feel. There are many ways to incorporate a vintage theme into your invitations, from using antique paper to printing your invitations in a vintage font.
Beach: If you're having a destination or summer wedding by the beach, consider using a beach-themed invitation. A beach-themed invitation can be as simple as using sand dollars or seashells as decorations, or you can go for a more tropical feel with palm trees and hibiscus flowers.
Modern Themes
Your wedding invitation is the first impression guests will have of your wedding, so it's important to choose a theme that reflects your style and personality. If you're planning a modern wedding, there are plenty of ways to incorporate a modern theme into your invitations.
Try a clean and simple design with geometric patterns or minimalist graphics for a modern look. If you want something fun and playful, go for an invitation with bright colors or a quirky pattern. And if you're looking for something elegant and timeless, opt for an invitation with classic fonts and an understated design.
No matter your style, ensure your wedding invitation conveys the overall tone on the big day.
Traditional vs Non-Traditional Themes
Do you want a traditional, classic look? Or are you going for something more unique and non-traditional?
There are pros and cons to both traditional and non-traditional wedding invitation themes. Traditional themes tend to be more formal and elegant, while non-traditional themes can be more fun and whimsical. Ultimately, deciding what theme best suits your wedding is up to you.
Here are a few things to keep in mind when choosing a wedding invitation theme:
Consider your wedding's overall style and tone. A traditional theme is probably more appropriate if you're having a formal affair. If you're planning a more laid-back celebration, a non-traditional theme might be better suited for your needs.
Think about the level of formality you want for your invitations. Traditional themes are typically more formal, while non-traditional themes can be more casual.
Consider your budget. Traditional themes are more expensive, while non-traditional themes can be more affordable.
Eclectic Themes
There are many fun and unique wedding invitation themes to choose from. Why not choose an eclectic theme if you're having trouble narrowing your options?
You can mix and match different design elements with an eclectic theme to create a one-of-a-kind look. For example, you could combine a vintage-inspired invitation with modern typography. Or, you could use a playful pattern for the background of your invite with more formal wording.
Fresh Theme
Your wedding invitation is your guests' first glimpse of your wedding day. If you're planning a fresh, modern wedding, a crisp, clean invitation is the way to go. Think simple lines and sleek fonts, nothing too fussy or frilly. Opt for unexpected materials like acrylic or paper cutouts to make your invitations stand out. And don't forget to carry your fresh theme to the rest of your wedding stationery, from save-the-dates to thank-you cards.
Whatever theme you choose for your wedding invitations, ensure it reflects your personality and style as a couple. After all, this is your big day. So, make it unforgettable!
Conclusion
There are many important factors to consider when planning your wedding, and choosing the right invitation theme is one. With so many beautiful and unique themes to choose from, it cannot be easy to decide which one is right for you.
But by keeping your style in mind and the overall tone and feel of your wedding day, you can narrow down the options and choose a wedding invitation theme that perfectly suits you and your fiance.